The rain didn't dampen the spirits at today's St Patrick's day parade in Swinford. Preparations and lunch over at the Conway Gym and Fitness Centre it was time for the club to take to the streets along with participants from the local schools, clubs and businesses.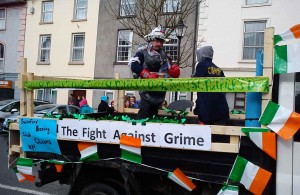 This years parade theme, was "Beauty dies, where Litter lies". Swinford Boxing club designed their float based on the "Fight against Grime", with Sean McDonagh "cleaning up" in the ring against a "rubbish" oppponent.
In an effort to promote our native language, the club also designed an "as Gaeilge" element to the float.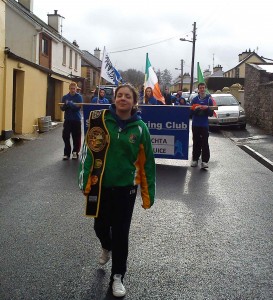 Irish International Aoife Hennigan lead us off on what was a cold but enjoyable circuit of the town. Large crowds lined both Main Street and Market Street, and showed their appreciation for those who had braved it out to participate.
All in all an enjoyable day. Thanks to all the members who turned out to build the float and take part. It was a welcome break from the hard training of the past few weeks!