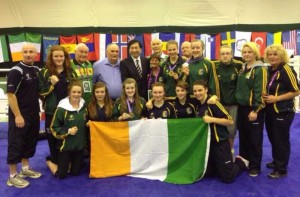 Congrats to Ciara Ginty, Geesala and Jacqui Lynch Golden Gloves, Belmullet, and to their clubs, on securing medals at the World Championships.
Ciara Ginty was crowned lightweight champion, and becomes Ireland's second ever female World Champion, alongside Olympic Champion Katie Taylor.
Jacqui Lynch secured a bronze medal narrowly losing out on a split decision, and Christina Desmond of Macroom took silver.
The Irish squad including the 5 Mayo boxers arrived home from the Championships in Albena, Bulgaria last night via Dublin Airport.
A huge congratulations to all involved especially the Mayo ladies and our own Ciara Sheedy.