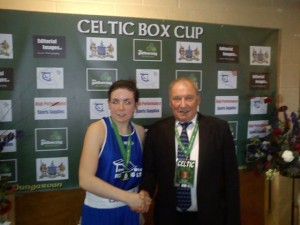 Congratulations to Aoife Hennigan on winning a Gold Medal at the Celtic Box Cup in Waterford yesterday.
The Box Cup promoted by Dungarvan Boxing Club, was boxed on Friday, Saturday and Sunday, and featured boxers from 10 count…ries accross Europe and Africa. Featuring promintently were teams from the UK, Portugal, the Defence Forces and the International Universities.
Aoife defeated Deirdre Begley of the Irish Universities team in a hard fought final, to secure Gold in preparation for the Intermediate Championships in November.
The club would like thank Dungarvan Boxing Club and the people of Dungarvan for their hospitality over the weekend.