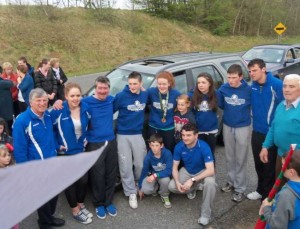 It was medals all round at the Gaelic Gloves Invitational in Kildare yesterday. With the high standard of entries and of boxing in this competition, the club could not have imagined all our boxers medalling. Based out of Ashford House Kilcock for the weekend, it was even more surprising given the fact that Ciara Sheedy's celebratory party went into the wee hours of competition Sunday, a fact that might also have explained the elongated morning weigh in.
Jack Kavanagh took our first Silver early in the day although many in attendance believed that it should have been gold, as Jack dropped a majority decision to a Dublin opponent with two Dublin judges. Despite the decision, this weekend saw Jack move to a different level of boxing (cheered on by a large Dublin circle of family and friends), the style of boxing which brings titles. With a couple of performances which were close to perfection, and in what was possibly the most competitive of all the weight categories over the weekend, a silver medal was a superb result.
Perhaps the surprise package of the weekend was Shane McDonnell. Shane had been laid up for most of the season, missing the Championships due to a serious knee injury and has only been back in intensive training for the past 6 weeks. They do say that good athletes regain fitness quicker than most and that is certainly the case with Shane. In against a far more experienced opponent in the final, and moving up two weight categories to compete, Shane found the performance of his career to date, landing clean hard shots and moving well, to finish two points clear and take the Gold Medal in the process.
They say experience counts for a lot in sport and that certainly rang true for Swinford's third participant this weekend. I think he'd admit himself that going into this competition a medal would have been a far off dream, but not only did Michael Regan medal, the colour was precious. Only back in training for the past two months after almost two years out of the ring, in his first competitive tournament since coming out of retirement, Michael used every trick in his lengthy book to overcome some of the country's top boxers in this weight division. Controlling from the middle of the ring a tactic which simply had to be employed, devastating use of a big right hand, secured Swinford's second Gold and Michael a hard earned rest.
The last contest of the tournament brought the final everyone wanted to see, the Champion and the young pretender, Multiple and Current Irish Ladies SENIOR Champion and Team Ireland Elite squad member, Dervla Duffy of the Ryston Boxing Club Kildare and the five time Irish Youth Champion and Current Irish Youth International Aoife Hennigan of Swinford Boxing Club. Many believed that Duffy was just too good and that Aoife would not live with her, afterall Duffy is ranked as one of Europe's top Senior female boxers. Well many were wrong, this was a humdinger! In a contest that would have graced any stage and in which both ladies gave an exhibition of boxing, at the final bell it was Duffy who took the decision with two points to spare. An genuine lady of boxing, Duffy complimented her young opponent afterwards saying that "it was one of the most challenging contests I have experienced either home or abroad, I hit her with everything and couldn't keep her off me". In summary of Aoife Hennigan's weekend – As close as it gets – Silver medal – point proved!
After a weekend as successful as this, newly appointed club coaches Michaela Clynch and Michael Moran must think that this game is easy! What a weekend to start out for these two in the corner – An Irish Title and four Gaelic Gloves medals, Pat and Tomas could be relegated come next weekend! What it does prove though is with a little effort from a lot of people, the dedication of a great bunch of young boxers, and the support of a community…there are no limits!