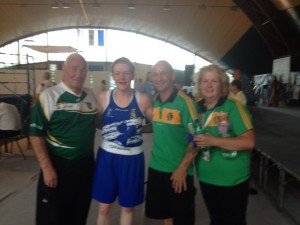 News just in – Ciara Sheedy has just defeated Justyna Walas of Poland to qualify for the European Boxing Final in Hungary.
With Mayo team mates Grainne Gavin and Jacqui Lynch putting in massive performances to reach their respective finals earlier in the day, Ciara Sheedy joined her compatriots with a superb performance in the last bout of the day. Ciara pulled out all the stops in the final round to earn a split decision in an edge-of-the-seat 63kg showdown.
Who could have imagined as we set out this year that such highs could be reached. With the goal of winning an Irish title being paramount, everything else is a bonus, and now Ciara has secured a European Silver medal…at the least!
In what has been a superb championships so far for Ireland and especially for Mayo, Ciara Ginty, Lycia Heneghan, Cathy Walsh, Jacqui Lynch, Grainne Gavin have done us proud as have all the Irish boxers.
The club are emensely proud of Ciara as always, and are looking forward now to a cracking final versus Belinda Limuka of France, on Saturday.