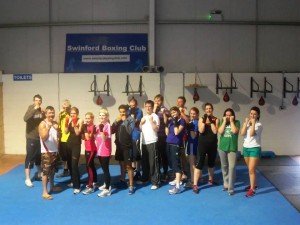 WHITE COLLAR BOXING
Conway Gym & Fitness Centre
Aug 2nd 2013 @ 9pm
Tickets available @ €10 from participants
Full bar on the evening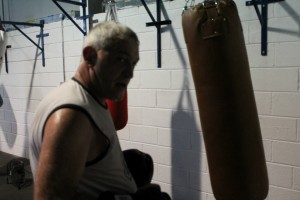 Only two weeks of training remain, until the brave souls of the White Collar fundraiser take to the ring! Team manager Mick "Knees" McSharry reports that training has reached a new level of intensity, and everyone is primed and ready for action.
Preliminary match ups were made this week ahead of the 2nd of August clash.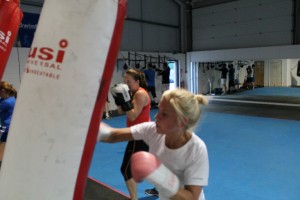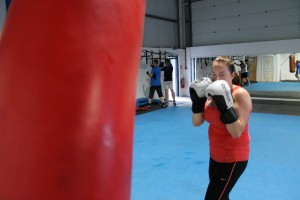 Nadine "The Pocket Rocket" O'Hara from the People's Republic of Foxford will take on Kathy "Twinkle Toes" Geraghty, the Fighting pride of Meelick. Speaking earlier O'Hara commented that she has no fears about the contest, "I have seen Kathy shadow boxing, and the shadow wins most of the time"! In response a time later, Geraghty sent out this message " if Nadine has dreams of taking me, she'd better wake up and then apologise!" Footwork may be the key to this match up, with both boxers making "ballerina" style shapes. With the fast hands and fast feet, don't blink or you might just miss the action! 
In an Irish title unification fight, former Irish amateur title holder Barry "The Goose" Durkan, takes on Martin "The Mutt Man" Maloney, aka Donnie "the Dunesman" Lynch, with Maloney putting his "Emerald Isle title" on the line. Durkan has gone on the record as saying about Maloney, "he has everything a boxer needs except speed, stamina, a punch, and ability to take punishment. In other words, he owns a pair of shorts". Durkan also gave an insight about his own ambitions, "since I've retired, I eat less, weigh less, train less and care less". Maloney in response to these comments was keeping his cards close to his chest saying, " let him have his say before the fight, cause once the bell rings he's gonna be disappointed. Will Maloney be "King of the Town", one sure thing – on August 2nd there'll be no shouting "cut".
In a Killasser versus Barnacouge match up, and out to live up to the names both have made for themselves in the past few weeks, Emma "The wicked Witch of the West" Moran meets Karen "The Assassin" Geraghty. Moran has said "never go down the pub with Karen, she wont even get a round in" and, " Punch is gonna be her new favorite drink". Geraghty was quick to respond saying, " I'm gonna rock her so hard, her ancestors will feel it!". This will be a battle Royale and will be worth the entrance fee alone!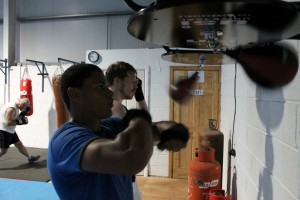 Midfield fighter Paul "The Legend" Lavin will be in with "Cruncher" Clio Hoare, the fighting pride of Foxford, in the clash of the big hitters. Expect fireworks in this one folks, as these two go to battle. When asked what of Hoare's strength Lavin said "I have seen him lifting the bar and it's quite impressive….but it's time he started to put some weights on the end. Hoare when interviewed laughed this off saying" if I had a garage and had to do an estimate on his face after this fight, I would probably write it off." Two men showing much promise, both could have careers in the sport, only one will leave undefeated on Aug 2nd.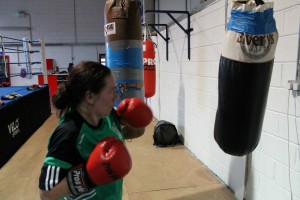 In a town versus country match up the meeting of Swinford's Linda "The Lucan Lunatic" Hannon and Meelick's Karen "The Lillywhite Warrior" Clynch promises fireworks. These two have been trash talking since before the match was even made. Hannon who reckons her best three punches are her choke hold, rabbit punch and the kidney blow has told Clynch that she is all chin from the waist up and that a stoppage is on the cards. Clynch however when interviewed could only see the bout going one way, "that's my way". Clynch may struggle with the thin air at higher altitude than Hannon, but the reach advantage of 2.2 miles may also be a factor to consider.
"Lethal" Leisa Maloney meets the "Connemara Warrior" Ellen McDonagh in an anticipated bout. Injury has hampered McDonagh's preparations, Luke Campbell, British Olympic champion, has hampered Maloney's. Both ladies come to the ring with minimum sparring and this contest could go anyway. This hasn't dispelled the confidence however with both ladies talking the talk. McDonaghcommented earlier that Maloney was making a sequel to the "Gone in 60 seconds". It's called "Gone in 10 seconds", to which Maloney has responded that like Michael Jackson McDonagh wears gloves for no reason. Gonna be a cracker!
Up and coming star Liam "Killasser Kick ass" McSharry meets the rugged "Dynamite" Derek Ryan, formerly from the banks of the river Moy now residing in Kinaffe. In a youth versus experience match up Ryan reckons that he is in great shape. "Every artery in my body is hard" and has said that "this fight will be fixed….fixed with my right hand". McSharry however reacted accordingly when interviewed saying, " it ain't how hard you hit; it's about how hard you can get hit, and keep coming back for more." McSharry is rumoured to be already signed up by local promoters for next years boxing season, Ryan will be looking to ensure that when starting out, he has a blemish on his record. 
In one of the most anticipated clashes since boxing began in 688 BC, Mick "Catch of the Day" Salmon meets Mick "Masher" Moran. Masher has said " I was six-foot four inches when I started boxing, but with all the upper cuts I'm up to six-foot six inches". Salmon with a style of boxing that can only be described as "dangerous",….. to his opponent and to himself, has gone on record as having said, "I fear no man…… but the dentist!" The tough training regime hasn't bothered Salmon, "You run for 45 minutes, you train for an hour, and the rest of the time you just hang out and talk tough". The height difference doesn't seem to be having an impact either. Moran commented – "I know he is there somewhere, because he keeps hitting me". Guaranteed action all the way in this one!
Negotiations are still ongoing in a bid to coerce former Irish Heavyweight Champion, Darragh "Spudz" Campbell out of retirement. A Mexican opponent is rumoured to be flying in this week for negotiations, and Spudz is said to be tempted.
On the more serious side of things, you can't but admire the preparations these volunteers have made, and the time and effort they have given in aid of a local club. Swinford Boxing Club appreciates the bravery and generosity of every one of them, and the organisation which many of our supporters have put into the evening. 
Tickets are flying out the door and unfortunately numbers are limited, so get yours now from members of the club. Come Friday August second, when the lights come up, no doubt about it – This will be some craic!