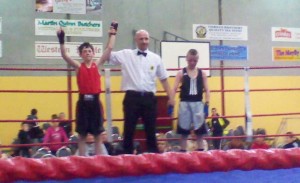 Jack Kavanagh brought his A game to Foxford on Saturday, with a season's best performance against Edward McDonagh of Titan's club in Galway, and in the process advanced to next Saturday's Connacht Final in Oughterard, on a scoreline of 15-5.
Kavanagh was never behind, and continiously moved through the gears and further ahead after every round. The intensity of Kavanagh's training regime over the past couple of months showed, and as a result he was rarely troubled by the experienced McDonagh. Despite some devasting left crosses from Kavanagh, McDonagh never stood back and continued to advance throughout the contest. Kavanagh's craft shone through however, and he continued to pick McDonagh off at every chance.
With one of the day's highest scores and a comprehensive margin of victory, Kavanagh will be in a confident mood next weekend, when he meets Patrick Lawrence of Eagle BC in Westport, in his bid to defend the Connacht title he won last year. All in all it promises to be a cracker!