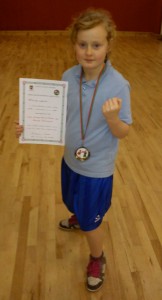 News just in –
Swinford Boxing club will have another exponent on the "Road to Rio" bill in the TF Royal this evening…….10 year old Aoife Bredigan.
It's unimaginable to think that at 10 years of age and starting out in your boxing career, that so early you would be meeting your idol, but Aoife will be doing just that.
Aoife has made quite a name for herself in her first season with performances beyond her year's across Mayo and Connacht. That name sees her added to the Katie Taylor bill and in an added bonus she will be taking to the ring in the main supporting bout and sandwiched between two heroes in European Champion Ray Moylette and Olympic Champion Katie Taylor.
What a night for Aoife and for Swinford Boxing!