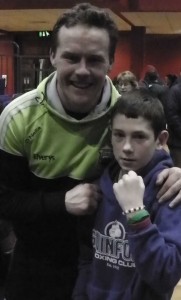 Jack Kavanagh boxed his heart out this weekend to set up a date with destiny next Friday evening.
Jack found his best performance of the year in Friday evening's quarter final, winning by TKO in round three. On top from the outset Jack landed two heavy left hands in rounds two and three.
Today's semi was a different affair. Jack can thank his lucky stars for a superb round one, as rounds two and three became a battle to the end. Fortunately Jack had done enough to see him through to Friday's final, where he will meet an old foe in Tom Stokes of Oakleaf in Derry.
For now Jack can relax, happy with two excellent performances, and dream of what might be next weekend.