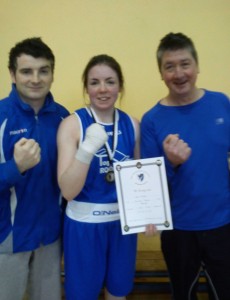 Aoife Hennigan made it five Connacht titles in a row, at yesterday's U18 championships in Foxford.
Hennigan defeated a brave Sandra Cassidy of Castlebar BC in yesterdays final. Hennigan had defeated Cassidy over four rounds earlier in the season, in preparation for International duty in Germany and on the comeback trail form injury, but yesterday Hennigan was in less than generous mood, and the referee had seen enough after Round 1.
Hennigan now advances to the U18 ladies Championships in Dublin later in the season, where she will renew acquaintances with a number of her international buddies, this time however it may not be so friendly as they find themselves in opposite corners.
For now Hennigan can continue to build, happy in the knowledge that she has completed a "5 in a row".