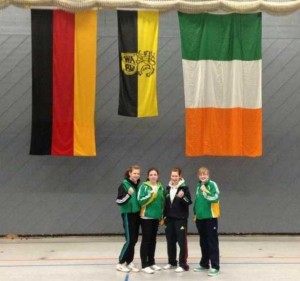 Aoife Hennigan returned from a successful tournament in Germany yesterday after a confidence boosting performance against German European Champion Darlene Joerling.
No quarter was given in a toe to toe battle which was unfortunately given exhibition status but had the class of a full international contest and quite possibly should have been.
Irrelevant though as Aoife has already set her sights on prepartions to defend her National title and meetings with some of Ireland's top females in the process.
Congratulations to Ciara Ginty of the Geesala boxing club, also a member of the Irish team in Germany. A super boxer and friend of Swinford BC, Ciara put in one of the performances of the International to overcome her German opponent on her debut.
The clubs thanks goes out as always to the IABA and the Irish team management and coaches, especially to Noreen Quinn of the Castlebar BC, who was team coach for the occasion.