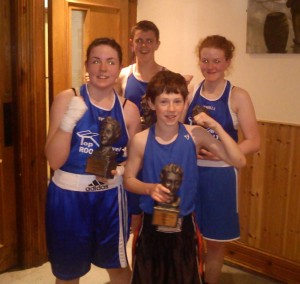 The Connacht Boy/Girl 1,2,3 & U18 Championships get underway this weekend in the Foxford Sports & Leisure Centre.Weighing in on Saturday morning will be Jack Kavanagh and Aoife Hennigan.
Kavanagh entered but missed the Mayo Championships through injury, but luckily the Connachts are an open championships, and Kavanagh will be looking to book his place in Easter's All Ireland's at the national stadium.
With his injury fully recovered and after a season of intense training which has ramped up a gear in recent weeks, Kavanagh has rekindled the form which won him this title last year. In what is a highly competitive division, Kavanagh knows it will take performances of a high calibre to defend his title, but also recognises it will take the same if not more to defeat him.
Aoife Hennigan's quest for a sixth Connacht title in a row continues also at the weekend. Fresh from exploits in Germany, Hennigan is primed and ready for Connacht challengers. In a division where boxers are familiar with each other, there will no doubt be much "jockeying for position", but it is hoped that there will be entries in the division, and that competition will be high.
The club wishes the best of luck to both Jack and Aoife this weekend as they strive to win a another Connacht title, and in the process qualify for the National finals.