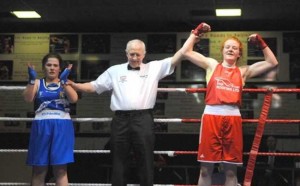 You know the analogy…you wait for ages for a bus, then two come along, well after two years of painstaking work, Ciara Sheedy struck gold three weeks ago in the National Youths Championships, and yesterday she made it a double at the Natoinal Senior Cadet Championships.
Up against old foe, Clodagh Greene of South Meath in the final, a commanding performance ensured title number two for Ciara, and number twenty-eight for the Swinford Boxing Club.
On the front foot from the off, Ciara dominated every round of the national final and won out on a phenomenal score of 20 points to 5. Ciara was presented with her Gold medal by Mr Joe Charles of the Connacht council with members of the Irish Team selection committee in attendance. Progressing with every contest Ciara is quickly becoming a force to be reckoned with in ladies boxing, and is now surely closing in on selection to the Irish ladies squad.
Not unlike three weeks ago, the final decision yesterday was greeted with jubilant scenes from the large Swinford contingent and from many of Ciara's fellow members of the Mayo Ladies boxing squad. Others from the squad to take titles were, Jacqui Lynch of Golden Gloves, Grainne Gavin of Castlebar and Ciara Ginty of Geesala. Shannon Timlin of Geesala and Jamie Butler of Ballinrobe were unlucky in dropping close contests.
Another great Championships for Mayo ladies boxing and another especially for the superb Ciara Sheedy.