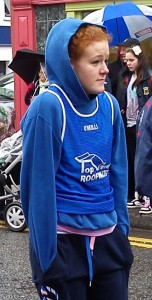 It has been confirmed today that Ciara Sheedy will represent Swinford Boxing Club on the sold out Katie Taylor bill next Sunday night in the TF Royal Theatre in Castlebar.
Earlier in the week Ciara was wondering how she would get a ticket to see Katie…..now she'll be sitting next to her in the changing room!
In what is a great honour for Ciara and indeed for the club, Ciara will be one of just a few supoorting bouts to the main event of the evening, the meeting of multiple European and World Champion, and Olympic Gold medalist Katie Taylor, and Bulgarian Denista Eliseeva – the last boxer to have secured a victory, albeit a controversial one over Taylor.
Sheedy who was narrowly defeated in last years Irish ladies final, says it will be the perfect preparation for the national championships at which she hopes to secure gold this year.
A capacity crowd is expected for what will be a night to remember, and the biggest one to date in the career of Ciara Sheedy.