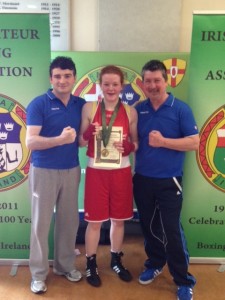 No matter what happens from here, it will now go down in the history books that on the 4th day of May in the year 2013, Ciara Sheedy of the Swinford Amateur Boxing Club in county Mayo, was crowned Ladies boxing Champion of Ireland, and boy did she do it in style!
In a near perfect performance, Ciara dominated her South Meath opponent from the outset and pushed further and further ahead with every round. The large Swinford following in attendance were well aware before the final bell that the title was coming West of the Shannon, but that didn't prevent joyous scenes upon announcement of the final decision.
Ciara was joined in the celebrations by many of her Mayo and Connacht squad colleagues from clubs across the West as Mayo Boxing pretty much swept the boards in a successful weekend of top quality boxing.
The celebrations are continuing here in the capital, but will cease shortly due to a beckoning 8am weigh in for the Gaelic Gloves Invitational tomorrow, but for now the night belongs to Swinford's 15th National Boxing Champion, and "queen of the canvas", Miss Ciara Sheedy