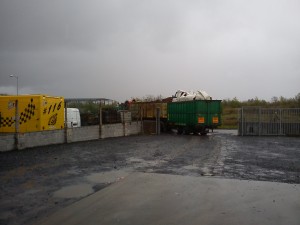 With the last load of scrap metal gone from the yard, the club can reflect on a successful fundraiser at the Conway Gym & Fitness Centre.
On Friday 10th May the action began with a early morning meet in the gym. With collections decided and directions in hand three trailers manned with an adequate heavy gang each, hit the road. Some runs were short, some not so short, some roads weren't great, some were paved with gold.
Saturday brought a bright and mild day, and a lot of deliveries to the yard. The gang were back helping on the trailers and did over 30 runs on the day. A lot of the heavier metal made it's way to the yard on Saturday so there were some sore muscles that evening.
Sunday was Cake day. Half the parish must have been baking on Saturday and Sunday morning as come 12:30pm the gym which is usually a sweet free zone, was now full of buns and cakes! A bunch of our club ladies had turned out to take the reins while the scrap continued to role in outside. The Cake sale was well supported, not least of all by some of our younger boxers who were waiting to travel to Westport for a female tournament! All of the baking was superb, and everything was gone within a half hour, resulting in many, many, happy tummies.
The bric a brac sale ran alongside the cake sale and with buyers coming from as far as Roscommon for certain items, there wasn't much left at the end of the day, and the Clothes collection resulted in over a tonne of clothes, rendering one of the changing rooms out of bounds for a few days.
Thanks to all who supported one of our most enjoyable fundraisers in any way, and to all the volunteers who helped us out over the weekend.