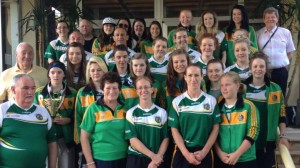 What a weekend of sport!
At home, the capital enjoyed it's greatest hurling day in 52 years, King Henry returned for Kilkenny and the Cats dumped Tipp from the Championship, and down Munster way, Kerry toppled the Rebels.
Internationally Graeme McDowell claimed his third win of the season in France, while not far away Dan Martin was following in his uncles footsteps. Downunder the Lions put the Aussies to the sword, Scotsman Andy Murray ended a 77-year wait for tennis fans across Britain, and in amsterdam our cricketers moved a step closer to the World Cup with victory over The Netherlands.
But best of all in Hungary, putting a small but proud town from the West of Ireland on the international sporting map, Ciara Sheedy of Swinford Boxing Club, county Mayo, won a silver medal at the European Union Ladies Championships.
In a feat that will go down as a new high in the history of Swinford Boxing, Ciara Sheedy cemented her place amoung club heros and heroines for evermore, with the club's first international championship medal, and a marked sign of glory days to come for Swinford Boxing.
In a championships dominated by Team Ireland, and in particular the Ladies from the county Mayo, it cannot be put into words, the achievement it is for Ciara Sheedy in such a short space of time, to become European number two ranked boxer.
For all those who at times wonder is the effort worth it? For anyone who has to "make do" at any time, and for all young people who dream of greater things, take inspiration, we've said it before and it'll be said many times again, with just a little but from many, the sky is the limit….. our Hero in Hungary is living proof! Take your bow….Ciara Sheedy.